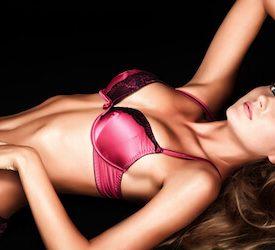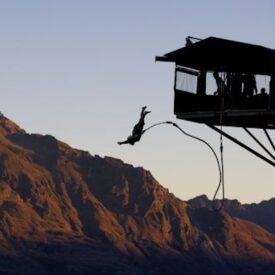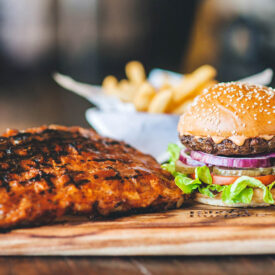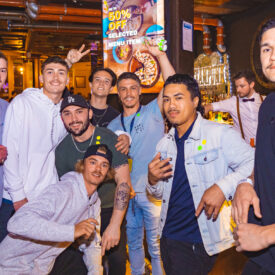 What's Included
2x Nights Hostel Accommodation
Private ensuite dorms
Central Queenstown
Kawarau Bridge Bungy Jump for the Stag
Kawarau Zipride for all guests
Reserved area to watch the Stag jump
Transfers from town
Group Dinner
Reserved area with main meal & drink each
Venue voucher for drinks
Big Night Out Pub Crawl
Visit 4 of Queenstown's Best Party Destinations
Fully Hosted Party Tour
Games Played Throughout The Tour With Prizes To Be Won
VIP Strip Club Entry For The Group
Digital Invites & Payment Options For All Guests
Dedicated Stag Party Planner
Fully Detailed, Interactive Stag Party Itinerary
Overview
This stag party is truly epic! The stag is already set to take the plunge by getting married, but taking a 400m fall from Kawarau Bridge, well, that's another thing. His best mates can gather in a reserved area with phones in hand to capture the stag's hair-raising Bungy jump. After that, the group will embark on a Kawarau Zip ride, which is sure to get the adrenaline pumping! As the night descends, it's off to one of the most sought-after restaurants for a group dinner and a whopping $500 venue to spend on drinks. And those drinks will keep on coming as your group hits up four of the best party destinations in Queenstown on our Big Night Out Pub Crawl. But wait, there's more – VIP access to the best strip club in town and a naughty treat for the stag is in store.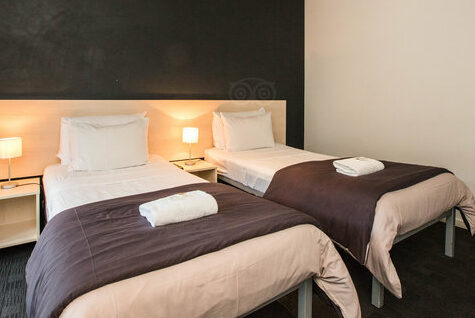 THE ACCOMMODATION
For those looking for more budget-friendly accommodation, then this is the place for you. This 4-star hostel features private ensuite dorms, complimentary wireless Internet, daily housekeeping, a sauna, and a fireplace in the lobby. The best part? It's located in the heart of Queenstown, within a 15-minute walk of Skyline Queenstown.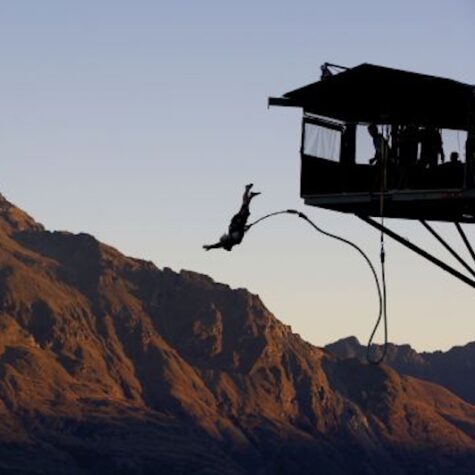 BUNGY JUMP
We hope the stag isn't afraid of heights because he's about to embark on the Kawarau Bridge Bungy Jump, which  is a 400m leap of faith! His best mates can watch him freefall in this hair-raising jump in their reserved area, capturing footage of the jump. The stag will even receive a t-shirt and certificate, which he can proudly share on his social media, boasting to all his friends. The group will then enjoy a Kawarau Zip ride adventure, making for one adrenaline-filled day!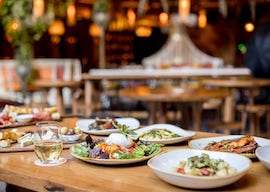 GROUP DINNER AND VENUE VOUCHER
After an action-packed day, a good meal and a stiff drink are in order! Your group will head to one of the most popular restaurants in Queenstown – a lakefront location in the heart of the city. Offering up traditional Irish fare, you will enjoy a lively mix of modern and Celtic music (including regular trad sessions), friendly service, and be warmed by open fires in both bars. And you won't be going thirsty – your group will have a $500 bar tab to spend on booze.
BIG NIGHT OUT PUB CRAWL
If you're still feeling thirsty after enjoying your $500 bar tab, there's still more booze to come with our epic Big Night Out Pub Crawl, which sees you hitting up four of Queenstown's best party destinations. This fully hosted tour features games played with prizes to be won and it's a whole lot of fun!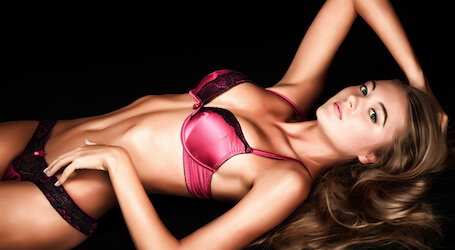 VIP STRIP CLUB ENTRY
The top of every stag's wish list is a visit to a strip club and your group will be doing just that. All you need to do is sit back and enjoy the view – and what a view it is. There are gorgeous girls galore!