Planning a stag group getaway to Airlie Beach? Get ready to experience the vibrant nightlife that this coastal town has to offer! Airlie Beach is renowned for its buzzing bar scene, with numerous venues that cater to different tastes and preferences. Whether you're seeking a night of dancing or a relaxed spot to socialise, Airlie Beach has something for every stag group. In this guide, we'll explore some of the best bars in Airlie Beach that are sure to make your stag celebration unforgettable. From lively nightclubs to beachfront watering holes, prepare to embark on a bar-hopping adventure as we dive into the top bars for a stag group in Airlie Beach. Here are some of the best bars in Airlie Beach for you and your mates to enjoy.
Top 5 Bars:
Boaty's: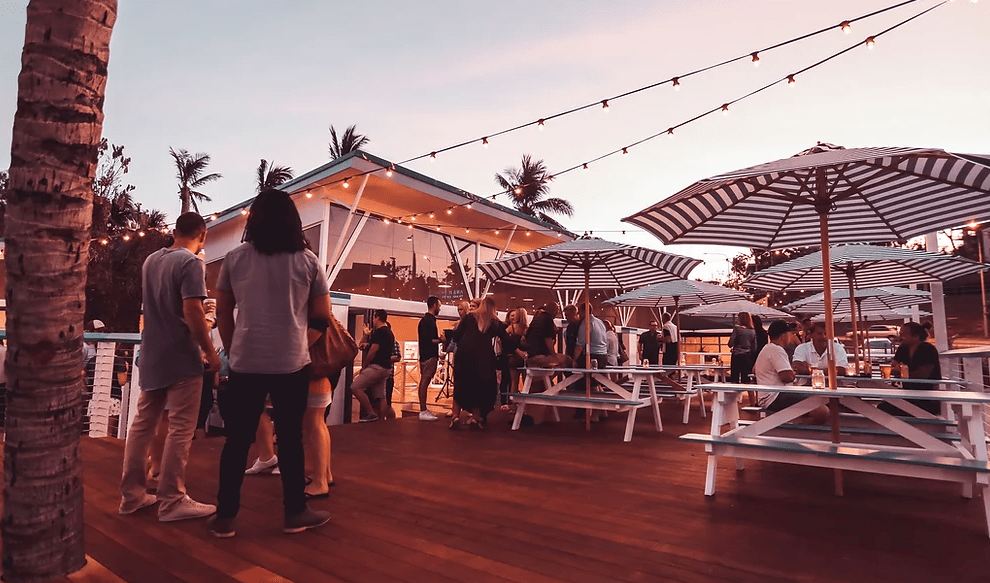 Boaty's enjoys a prime location along Airlie Beach. Its waterfront position provides picturesque views of the marina while sipping your favourite beverages. Offering an extensive selection of beverages, all tastes are catered for. Whether you're in the mood for a refreshing beer, a tropical cocktail, or a cocktail, Boaty's has a wide array of options to choose from.
Want some extra entertainment? Special events, themed parties and drinks specials are often hosted throughout the year adding extra excitement and variety to the bar's offerings. What's more, the bar often hosts live music performances from talented local musicians and bands. The live music at Boaty's add to the lively and enjoyable experience for visitors
Address: 336 Shute Harbour Rd, Airlie Beach QLD 4802
The Anchor Bar: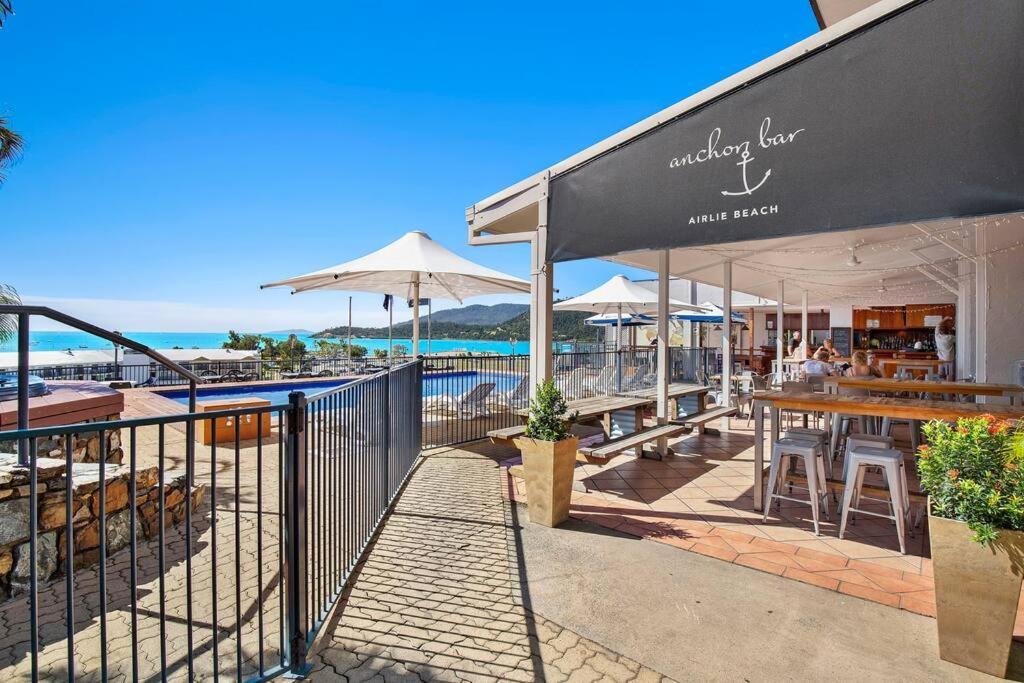 Renowned for sunset sessions with live music performances, the Anchor Bar proves an enchanting backdrop for guests. As the sun sets over the marina, you and your friends can unwind with their favourite drinks while enjoying live music from talented local musicians. If wanting something more private, the bar's dedicated event staff can assist in planning and coordinating special occasions. The Anchor Bar's idyllic location and elegant setting make it an excellent choice for hosting gatherings and celebrations.
Address: 5 Golden Orchid Dr, Airlie Beach QLD 4802
Magnums Hotel: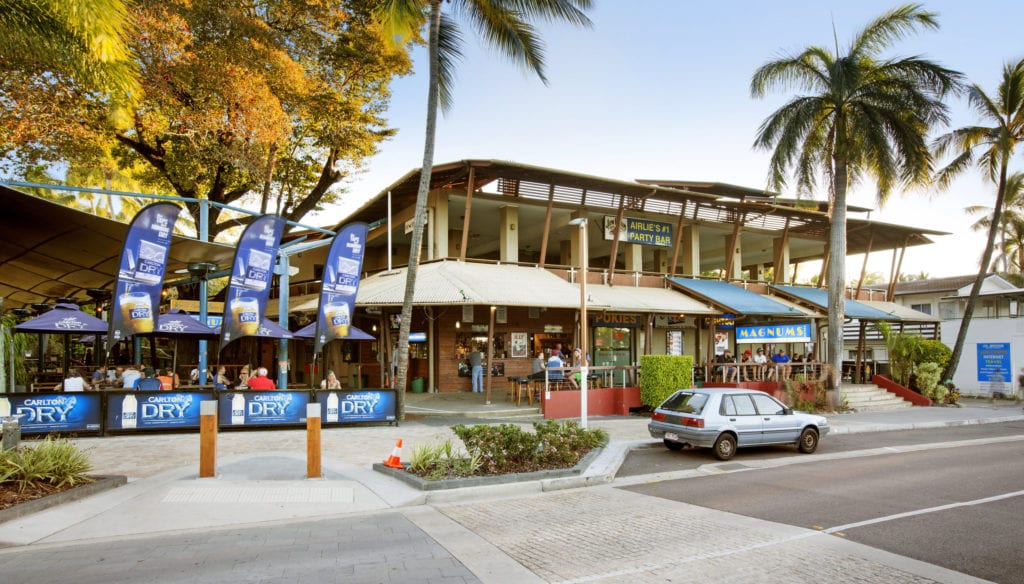 Magnums Hotel is a hub for evening entertainment accommodating multiple bars and a nightclub. For those interested in gaming or sports, Magnum's has a Gaming and Sports Bar. Thus a casual and social setting for gaming enthusiasts and sports fans is provided.
If wanting to move on from the bars, Magnums' nightclub is a favourite spot for dancing and partying into the late hours often hosting popular DJs, themed parties, and special events.
Address: 366 Shute Harbour Rd, Airlie Beach QLD 4802
Paradiso Rooftop Bar: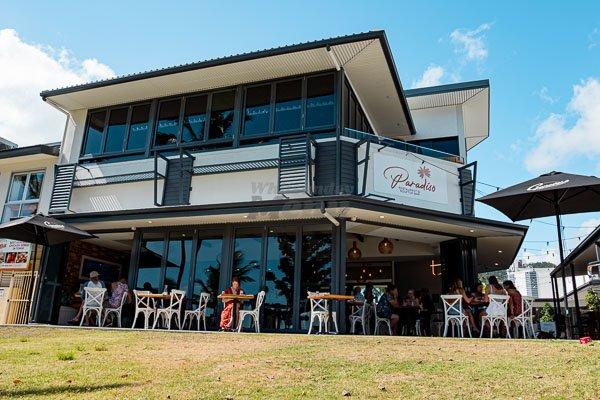 Paradiso Roof Top Bar focuses on amazing cocktails and incredible wine selection with a waterfront location like nothing else.  Located on the 2nd story with open bi fold louvers that really bring in that roof top feel, you can chill and enjoy amazing service while your eyes scan across the azure waters of the Coral Sea. The rooftop bar can take up to 70 people with a cocktail set up and sections can be booked with a minimum of 10 people for up to 2 hours. Paradiso Restaurant and Roof Top Bar is the perfect place in Airlie Beach to celebrate with the ability to order beverage packages for large tables or sole use private parties.
Address: 287 Shute Harbour Rd, Airlie Beach QLD 4802
KC's Bar & Grill: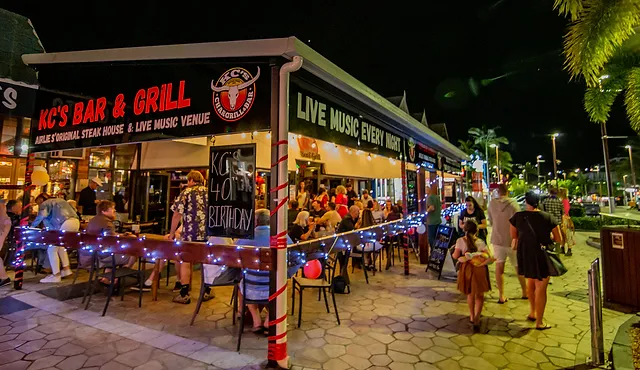 KC's Bar is renowned for its sports bar setup, making it an ideal place to catch live sports events. The bar is equipped with large screens that broadcast major sporting events, including rugby, soccer, cricket, and more. Major sporting events, such as the Super Bowl or the FIFA World Cup, are often showcased on the bar's large screens, creating an electric atmosphere.
Situated within the Airlie Beach Hotel, KC's Bar benefits from its central location. It is conveniently situated near the main street and is easily accessible for visitors exploring the area. Its proximity to other amenities and attractions makes it a convenient choice for a casual drink or an evening of sports and entertainment.
Whether you're looking to catch a game, enjoy a drink with friends, or engage in some friendly competition at the gaming area, KC's Bar provides a dynamic and entertaining experience.
Address: 382 Shute Harbour Rd, Airlie Beach QLD 4802