Planning a stag party in Brisbane? Brisbane boasts a vibrant and diverse nightlife scene, offering everything from rooftop bars with stunning views to hidden speakeasies with expertly crafted cocktails. To ensure your stag party is a hit, we've curated a list of the best bars in Brisbane that promise a night of fun, laughter, and unforgettable memories.
The Gresham Bar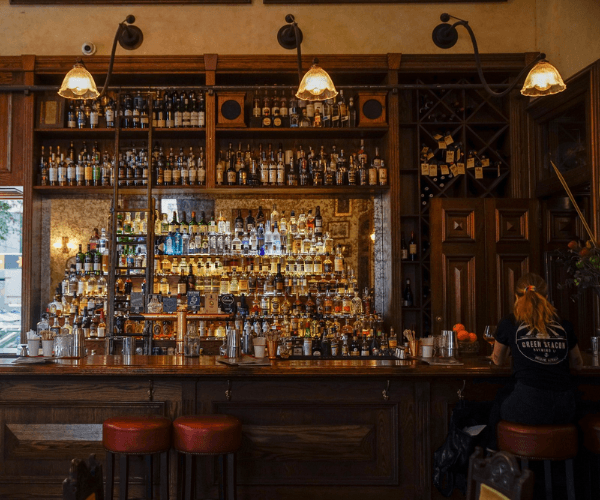 Located in a heritage-listed building, The Gresham Bar is a must-visit for any stag party. With a refined and classic ambiance, this bar specializes in premium whiskeys and craft cocktails. Immerse yourself in the old-world charm while sipping on their carefully curated drinks. The Gresham offers some of the highest calibre rum, whiskey and wine in the country. The extensive and progressive cocktail list are only able to be crafted by the best bartenders in the industry.
Location – 308 Queen Street, Brisbane City, 4000
Brooklyn Standard

If live music and a lively atmosphere are what you seek, Brooklyn Standard is the place to be. Located in the heart of the city on Eagle Lane, Brooklyn Standard brings an American-theme to its food and drinks, serving up the best American-style bar food in town alongside an impressive drinks list including local and imported beers, an amazing selection of wines and a full cocktail list. This underground bar hosts live bands and DJs playing a variety of genres. Brooklyn Standard has been awarded the Best Live Music Venue in Australia in 2015, 2019 & 2021 at the Australian Bar Awards. Grab a drink, hit the dance floor, and revel in the energetic vibe of this venue.
Location – Eagle Ln, Brisbane City QLD 4000
Netherworld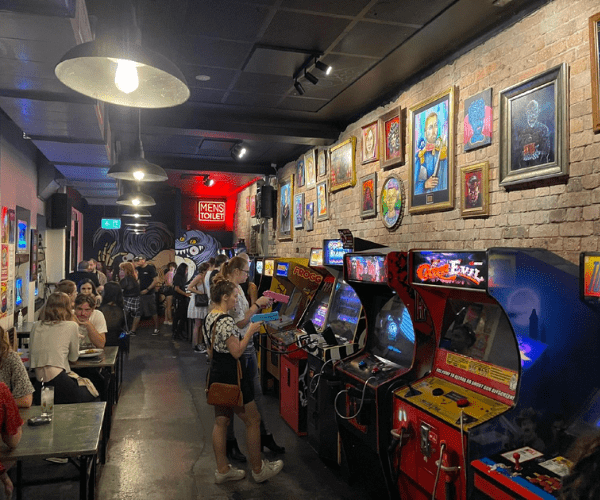 For a nostalgic gaming experience paired with great drinks, Netherworld is a fantastic choice. Lurking in the shadows beyond, the corner bar crouches over forgotten treasures from the 70's until present day including 15 pinball machines, 25 arcade machines, classic consoles and countless board games. The bar wields 24 taps of local beer, cider and mixed elixirs. Challenge your mates to a game while sipping on craft beers and creative cocktails.
Location – 186 Brunswick St, Fortitude Valley QLD 4006
Savile Row

Savile Row is a sophisticated cocktail bar that prides itself on its exceptional service and innovative drinks. The bartenders here are true artists, crafting cocktails that are as visually stunning as they are delicious. It's an ideal spot for those looking to appreciate mixology at its finest. Whether in the mood to explore beyond your comfort zone or craving something more attuned to your tastes, their well-versed and skilled team can guide you through a selection of over 1000 bottles to find the perfect beverage to quench your thirst.
Location – 667 Ann St, Fortitude Valley QLD 4006
The Wickham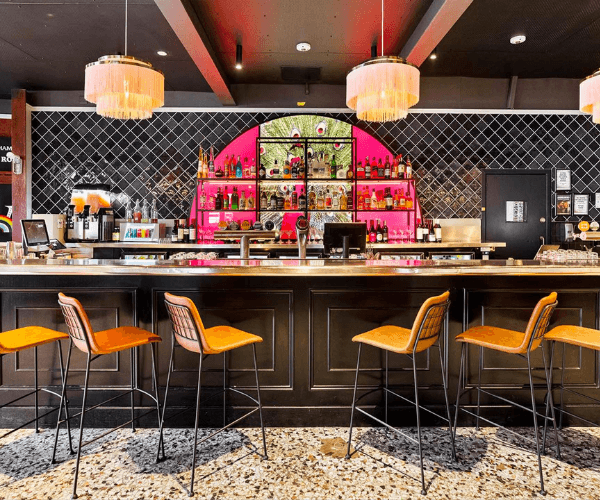 The Wickham is a longstanding LGBTQ+ friendly venue with a lively atmosphere and diverse crowd. Enjoy the outdoor beer garden, live entertainment, and a wide range of beverages. The Wickham boasts a diverse lineup of entertainment, featuring local Queens, DJs, Live Musicians, some of Australia's most popular acts and so much more. It's a welcoming place to celebrate your stag party and embrace inclusivity. The new look Wickham Hotel prides itself on honouring it's fabulous history, whilst creating a modern and safe space for all patrons, regardless of gender identity, race or sexuality.
Location – 308 Wickham St, Fortitude Valley QLD 4006
Make sure to plan ahead, considering reservations and any special requests to make the stag party a night to remember. Brisbane's diverse bar scene guarantees a fantastic time, ensuring your stag party is one for the books. Cheers to the groom-to-be and a night of unforgettable fun!