A stag party is a groom's last chance to celebrate before the big day. Lots of planning goes into stag parties, planning the activities, organising the guest list, and booking flights and recommendations.
One of the most important things to consider when planning a stag party is the accommodation. If you're planning a stag party in Queenstown, accomodation should be one of the first things you decide. Queenstown has a wide selection of hotels and hostels that offer breathtaking views of the mountains and lake. Many of them are also centrally located so that you are just a few minutes' walking distance from the city center.
Accommodation Options for your Stag in Queenstown
There are several options for accommodation that can work well for a stag party, depending on the size of the group and the budget.
Queenstown has a variety of hotels and other accommodations to fit any budget. Here are some of the more popular choices for stag accommodation in Queenstown.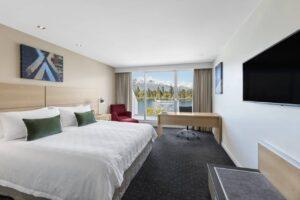 (credit: Crowne Plaza)
The Crowne Plaza Queenstown Is located within walking distance of all of Queenstown's most popular shops, bars, and restaurants. Just a ten minute walk from the Skyline Queenstown Gondola, this centrally located hotel boasts rooms which offer spectacular lake-view and mountain-view rooms. It is located across from the famous Queenstown premier lakeside destination for all things food, drinks, and entertainment, making it a perfect location for all your sightseeing needs – and an even better location to stumble home to after a big night out. 
Address: 93 Beach Street, Queenstown 9300, New Zealand
(credit: Tripadvisor)
The Rees Hotel is a luxury hotel located right on the shores of Lake Wakatipu. The hotel offers spectacular views of the mountains and is within walking distance of many of Queenstown's shops, restaurants, and attractions. The hotel features a wide range of room types, including, studios and suites, many of which boast private balconies or terraces with lake and mountain views. The hotel also offers a range of on-site facilities, including a restaurant, a bar, a fitness center, a spa, and a sauna. The hotel's restaurant, True South Dining Room, is open daily for breakfast, lunch, and dinner and serves elegant, sophisticated food that doesn't disappoint. The hotel is also just minutes away from the Skyline Gondola and ski fields.
Address: 377 Frankton Road, Queenstown 9300, New Zealand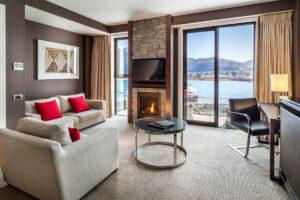 (credit: Destination Queenstown)
The Hilton Queenstown Resort & Spa is located just three kilometers from Queenstown Airport, with water taxi rides available for rides on the lake. This upscale resort features a range of sleek, modern room types including guest rooms and suites which offer stunning views of the mountain and lakes. The hotel's restaurant, Wakatipu Grill, offers rustic-chic lakefront dining and upscale New Zealand cuisine. The hotel's spa offers a range of much-needed treatments and therapies – ideal for anyone suffering a blistering hangover from the night before. The Hilton is located near all the main tourist attractions in Queenstown for all your sight seeing needs.
Address: 79 Peninsula Road, Kawarau Heights, Queenstown 9300, New Zealand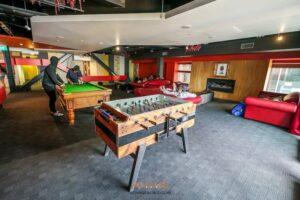 (credit: Nomads)
Nomads Queenstown is a hostel located in the heart of Queenstown. The hostel offers a range of accommodations, including dormitory-style rooms and private rooms. The hostel also has free wifi, a shared kitchen, a common area, a bar, and a lounge area. The hostel is within walking distance to all of Queenstown's most popular bars, restaurants, and shops, and is just minutes from the Gondola and other tourist destinations. The hostel also offers activities like bungee jumping, skydiving, and jet boating. This hostel is a great, budget-friendly choice if you want to take in all the Queenstown attractions without paying an arm and a leg. 
Address: 5/11 Church Street, South island, Queenstown 9300, New Zealand
(credits: Booking.com)
Reavers Lodge is a budget-friendly accommodation option popular for travellers looking for affordable accommodation in the heart of the city. The hostel is conveniently located just a short walk from the town center, making it an ideal spot for tourists interested in being as close to the city centre as possible without having to pay regular hotel rates. The hostel offers a variety of room types, including private rooms and dormitory-style accommodation, and also features a range of on-site facilities, including a kitchen, a lounge area, a courtyard and a BBQ area. Reavers Lodge is popular among backpackers and budget-conscious travelers looking for a central location in Queenstown. If you and your friends are looking for budget-friendly options, Reaver's Lodge may be right up your alley.
Address: 56 Hamilton Road, Queenstown 9300, New Zealand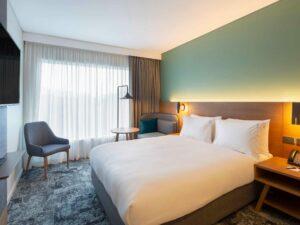 (credit: IHG)
The Holiday Inn Express is a new addition in Queenstown, and offers affordable rates, airy rooms, and mountain views. Located a short ten minute walk from Queenstown Bay Beach and one kilometer from Skyline Queenstown, the Holiday Inn is a great option if you're looking for a prime location at an affordable rate. Regardless of the type of accommodation you choose for your bucks party in Queenstown, it's important to book early. Queenstown is a popular destination for tourists at any time throughout the year, and hotels can fill up quickly – especially on weekends. Be sure to discuss accommodation styles and costs with your group to make sure everyone agrees on the price and location before you make a booking. 
Address: Cnr Stanley, Sydney Street, And, Queenstown 9300, New Zealand