From casual seafood shacks to sophisticated fine dining establishments, Airlie Beach has something to satisfy every craving. The town's culinary landscape reflects the rich cultural diversity of the region, with influences from various cuisines, including Australian, Asian, Mediterranean, and more. Whether in the mood for fresh seafood, juicy steaks, or international delicacies, you'll find a restaurant in Airlie Beach to suit your preferences.
Top 5 Restaurants in Airlie Beach:
Fish D'vine & The Rum Bar: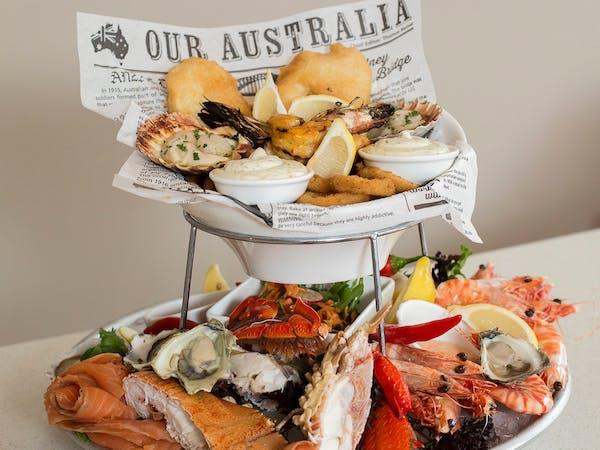 Fish D'vine & The Rum Bar is a renowned restaurant in Airlie Beach. Known for their commitment to serving fresh and sustainably sourced seafood, the menu includes prawns, oysters, fish, and crab. Whether you're a fan of classic fish and chips or looking to indulge in more gourmet preparations, such as seared scallops or barramundi, you're sure to find something to satisfy your palate.
What sets Fish D'vine apart is its unique Caribbean twist on seafood. Chefs skilfully blend Australian ingredients with Caribbean flavours, creating a fusion of tastes that delights diners. The menu offers a refreshing twist such as jerk-seasoned dishes, tropical salsas and tangy sauces.
Fish D'vine is renowned for its extensive rum collection at The Rum Bar. With over 500 different rums from around the world, it offers a diverse selection for both rum enthusiasts and novices. The knowledgeable staff can assist you in navigating the various flavors, styles, and ages of rum to find the perfect complement to your meal or a delightful standalone drink.
Note that Fish D'vine can get quite busy, especially during peak times, so it's advisable to make a reservation to secure a table. If you're a seafood lover or an enthusiast of rum, Fish D'vine & The Rum Bar is definitely worth an evening when visiting Airlie Beach.
Address: 16 Airlie Esplanade, Airlie Beach QLD 4802
La Tabella Trattoria: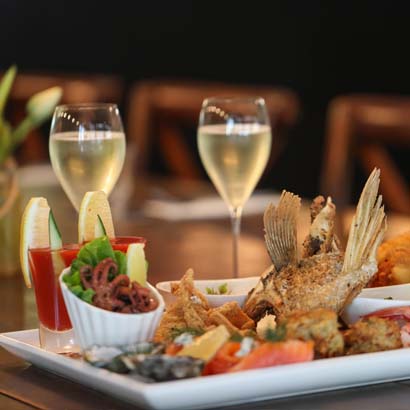 La Tabella Trattoria, a hidden gem nestled in the heart of Airlie Beach, is a delightful Italian restaurant. Guests are delighted by mouth watering pasta, wood-fired pizza, and a variety of classic Italian dishes. Its warm and inviting atmosphere combined with friendly service adds to the overall charm of the dining experience.
The specials board changes daily, to allow for local seafood to be served soon after it's caught. Pasta and gnocchi are made in-house daily as are the delicious desserts. Herbs are grown in gardens at the front of the restaurant for a true garden to plate experience. The extensive wine list features quality wines from Australia, New Zealand and Italy to complement the food.
Private dining areas are available with a secluded ambiance from the main restaurant. The Cellar Dining Room is capable of seating up to 24 people or 30 people for a stand up cocktail function.
Address: 7/6 The Esplanade, Airlie Beach QLD 4802
Paradiso Restaurant & Rooftop Bar:
Paradiso Restaurant & Rooftop Bar is a popular establishment located in Airlie Beach, known for its vibrant atmosphere, delicious cuisine, and stunning views.
The menus offer handmade authentic pizzas, Mediterranean influenced pasta dishes and classic Australian cuisine for everyone to enjoy. The family recipes offer a rich experience at Paradiso coupled with an in-house pastry chef serving traditional Italian pastries and cakes.
One of the standout features of Paradiso is its rooftop bar. Ascending to the rooftop, guests are greeted with panoramic views of Airlie Beach and the surrounding Whitsunday Islands. The rooftop bar provides a stunning setting to relax and unwind while enjoying a refreshing drink.
Owned and run by the Panuccio Family, the parents Nancy & Ange Panuccio still make homemade pastas, meatballs, lasagne, and gnocchi daily. The Panuccio children and their partners work in the restaurant in some format. It truly is a family run business.
Whether you choose to dine indoors or opt for the rooftop experience, Paradiso Restaurant & Rooftop Bar offers an exceptional combination of flavours, atmosphere, and views.
Address: 287 Shute Harbour Road, Airlie Beach QLD 4802
D'Viet House: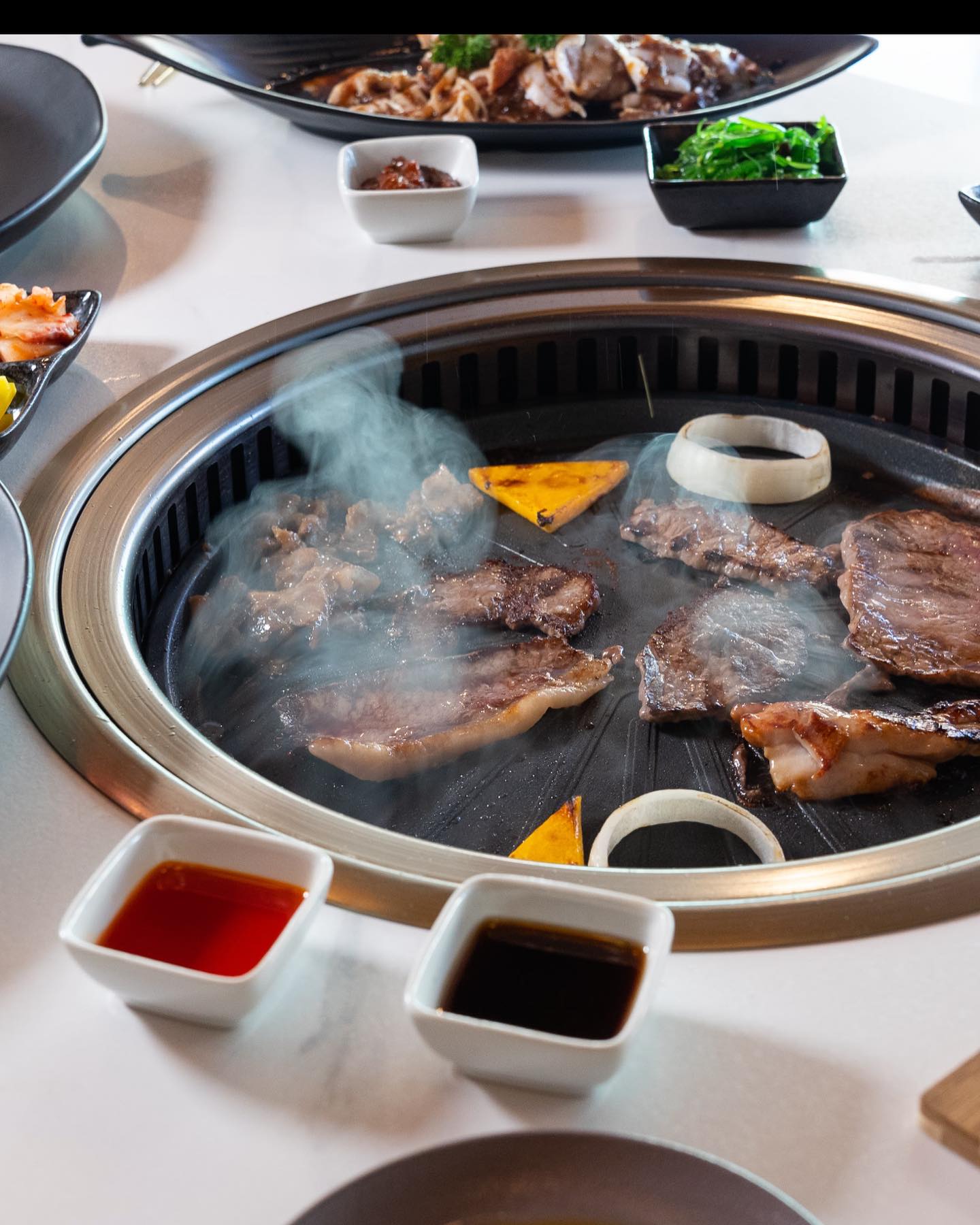 Recently transformed into a Korean barbeque and grill, D'Viet House allows guests to cook marinated meat over a hot grill located in the centre of the table. D'Viet House will serve fresh premium quality wagyu steaks and pork belly cuts to begin with, before adding seafood, chicken, and vegetarian options as well.
One of the highlights of dining at d'Viet House is the friendly and attentive service provided by the staff. They are knowledgeable about the menu, happy to make recommendations, and always ensure that guests have a pleasant and memorable dining experience. Whether you have specific dietary requirements or need guidance on exploring new flavours, the staff at d'Viet House are dedicated to accommodating your needs and ensuring your satisfaction.
The restaurant is tastefully decorated, with touches of Korean culture and artwork that create an immersive dining experience. The cozy seating arrangements and soft lighting add to the intimate and relaxed atmosphere, making it an ideal spot for a casual meal.
Address: Shop 8,9/293 Shute Harbour Rd, Airlie Beach QLD 4802
Tides Restaurant:
Tides Restaurant is an exceptional dining establishment located within the Club Wyndham resort, offering guests a sophisticated and memorable culinary experience. Situated in a prime location, this restaurant combines breathtaking ocean views with a menu showcasing modern Australian cuisine.
The menu at Tides Restaurant reflects a commitment to using the finest local ingredients and presenting them in innovative and creative ways. The culinary team, led by skilled chefs, crafts dishes that celebrate the diverse flavours and textures of Australia. From fresh seafood sourced from nearby waters to premium meats and locally grown produce, every ingredient is carefully selected to ensure the highest quality and taste.
The service at Tides Restaurant is attentive and professional, with a focus on providing guests with a seamless and enjoyable experience. Offering the ultimate tropical dining experience from breakfast through to dinner, Tides provides guests a relaxed fine-dining environment.
Address: Club Wyndham Mount Whitsunday Dr, Airlie Beach QLD 4802