If you're planning a stag party, Cairns is a great place to go – and for good reason.
Cairns is one of the most popular tourist destinations in Australia. It has a tropical climate, world-renowned beaches, and is located close to the Great Barrier Reef. You can go diving, snorkeling, eat great food, and go on all sorts of adventures.  Other than being a famous tourist destination, Cairns is also famous for being a great place to party and have fun, especially if you're planning a stag or hens party.
Any stag party is a great excuse to go out with the boys and have a rowdy time, and Cairns has a vibrant nightlife scene that is sure to fit any partier's needs. Whether you and your group want to go to pubs, rooftop parties, see a DJ, or just keep it low key, Cairns has a little bit of something for everyone. 
5 Best Bars in Cairns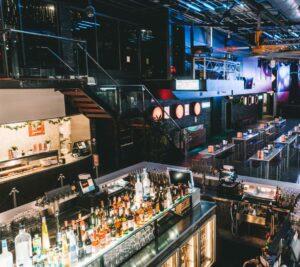 Credits: Adventure Cairns
GIlligan's, located in a hotel on the waterfront, is a nightclub and bar that always offers up a good time. It has a main bar, pool bar, and nightclub so you have somewhere to go for whatever your tastes are – whether you want to hang out and sip drinks by the pool, go for a chill day at the main bar, or party it up with music. Considered one of the best backpackers in Cairns, Gilligan's always has a good crowd. It's also one of the largest and most popular entertainment venues in the area. 
Address: 57/89 Grafton St, Cairns City QLD 4870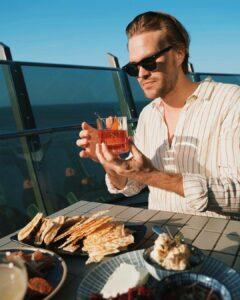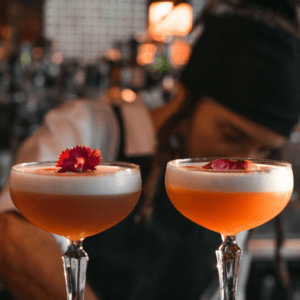 Rocco is Cairn's highest bar, located on the 12th floor at Crystalbrook Riley, a five-star hotel. At Rocco, you can take in panoramic views of the ocean and indulge in delicious Mediterranean meals, tasty cocktails and a warm, ambient, and earthy vibe. 
Address: 131/141 Esplanade, Cairns City, QLD 4870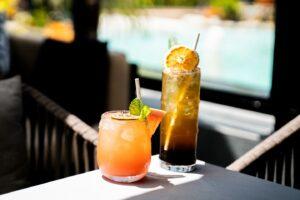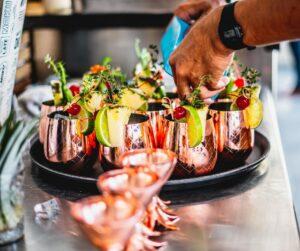 If you're looking for a day spent lounging by the pool and swim up bar, Moku Beach Club is the place to go. You can enjoy poolside drinks and food while you relax at the beach club and vibe to the music. If you're looking for a tropical paradise without having to go to the beach, Moku Beach Club is right up your alley. Whether you want to enjoy a lazy hangover by the pool or get the party started early, Moku Beach Club has it all.
Address: 122 Lake St, Cairns City QLD 4870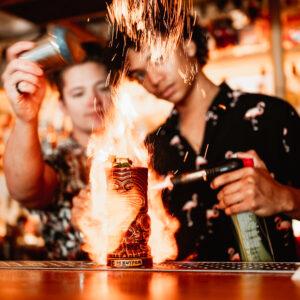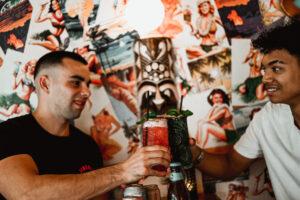 Flamingos is the perfect bar to visit if you want to escape into a beautiful tropical oasis. Located beneath street level, Flamingos has a Polynesian theme full of bright colors and good times. Considered one of the funnest to visit bars in Cairns, Flamingos is home to flaming cocktails, stunning murals, and island vibes. The bar also has an extensive rum list and a wide selection of craft beer and wines.
Address: 43 The Esplanade, Cairns City QLD 4870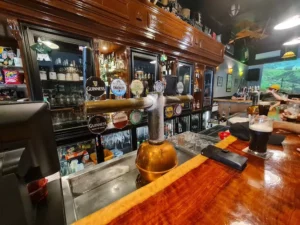 Bavarian Beer House is the perfect place for all the beer lovers out there, especially if you're with a group of guys who want to sit down, relax, and enjoy some beer before getting the party started. Located just two minutes from the Cairns esplanade, this bar offers the best of German beer, food, and good times. If you're in the mood for delicious imported beers in traditional glasses and delicious, traditional German food, the Bavarian Beer House is a must-visit.
Address: 41 Shields St, Cairns City, QLD 4870