Cairns is one of Australia's most popular tourist destinations. Known for its beautiful beaches, outdoor adventure activities, and vibrant nightlife, Cairns is the perfect place to go for any stag party.
Because Cairns is such a tourist hotspot, it has many different types and styles of accommodation that fit anyone's needs, whether you're looking for something budget-friendly or a luxury hotel. 
If you're planning a stag party, accommodation is one of the first things you'll have to think about once you choose your destination. Luckily, Cairns has a little bit of something for everyone when it comes to places to stay. Here are five places to consider staying in Cairns for your stag party.
5 Accommodation Options in Cairns
1. Cairns Plaza Hotel
Cairns Plaza Hotel is a budget-friendly hotel located in the heart of Cairns. It has an outdoor swimming pool and is located within walking distance of all of the best nightlife venues and the Great Barrier Reef. The Cairns Plaza hotel is perfect if you and your friends want to be within footsteps of the waterfront, restaurants, bars, and clubs. There are a wide variety of room options to suit all your needs, including ocean view suites as well as standard rooms. It also has a restaurant serving a wide range of food and drink options.
Address: 145 Esplanade, Cairns City QLD 4870
2. Crystalbrook Riley 
Crystalbrook Riley is a popular five-star hotel located in the centre of the Cairns esplanade. It has an outdoor swimming pool, spa, rooftop bar, and amenities ideal for those of you who don't mind spending a little extra on accommodation.
Crystalbook Riley is most well known for its stunning accommodations and ocean views, and is also home to the tallest rooftop bar in Cairns. This five-star luxury resort also has a 1000-square-foot swimming lagoon, a man-made beach, poolside cabanas, as well as a poolside food and drink menu. If you want five-star luxury living during your stay in Cairns, this is the place to do it.
Address: 131/141 Esplanade, Cairns City QLD 4870
3. Gilligan's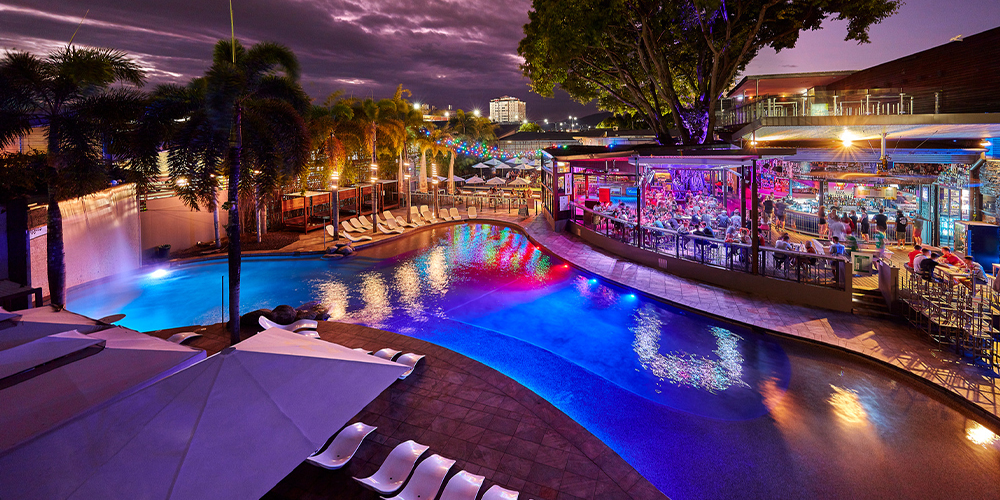 GIlligan's is one of the most popular backpackers in Cairns. Located in central Cairns, Gilligan's has its own restaurant, nightclub, outdoor swimming pool, and accommodations. If you and your friends are looking to save on accommodation while staying in one of the more vibrant and fun backpackers, Gilligan's is a great option – especially if you and your mates are looking for more of a party vibe.
Gilligan's has two bars with outdoor seating and an outdoor pool and nightclub with live DJs, making it the perfect choice if you're looking to be in the centre of the buzzing Cairns nightlife.
Address: 57/89 Grafton St, Cairns City QLD 4870
4. Hotel Tropiq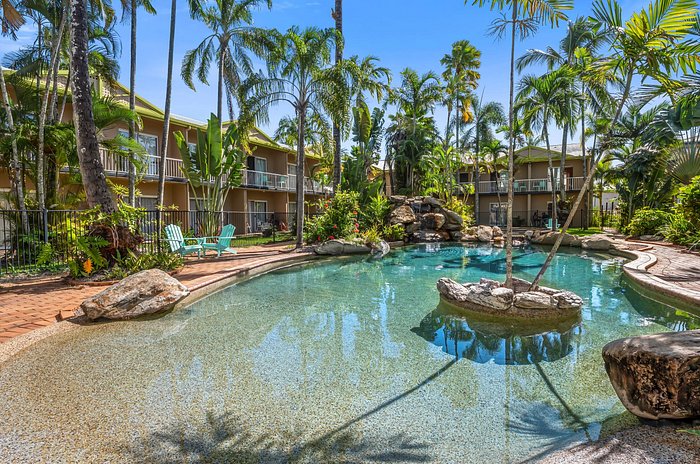 Hotel Tropiq offers affordable accommodation in central Cairns. The hotel is set in an ideal location against tropical gardens. Located just minutes from the escalade, Hotel Tropiq has an outdoor pool with a hot tub and is a great choice for budget-friendly accommodation that is close to the bustling city center. 
If you and your mates are looking to save on where you stay but don't want to stay in a hostel, Hotel Tropiq is a great budget-friendly alternative.
Address: 179 Sheridan St, Cairns North QLD 4870
5. Pullman Cairns International
Pullman Cairns International offers a perfect combination of convenience and comfort. It has a nightly seafood buffet, an all-day restaurant, live weekend entertainment, and a much-needed lobby bar for all your drinking needs. 
This hotel also has an outdoor pool, spa, and sauna and is just minutes away from the Great Barrier Reef. It has a wide selection of room options and stylish suites, with city or harbor views. If you and your group are looking for a luxury hotel located in central Cairns, Pullman Cairns International is right up your alley.
Address: 17 Abbott St, Cairns City QLD 4870